The Pondering American College Football Games of the Day-Updated throughout the Day
*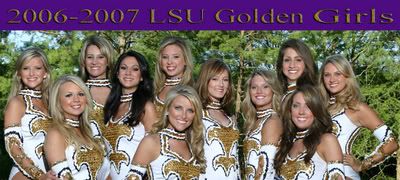 Updates as to scores and other football thoughts will be posted today
1. How much does
LSU
have to win by to stop this crying game in Baton Rouge and to make sure we don't drop in the polls. It seems this year rules are out of the question when only a loss could drop you
*These games and the struggles that several big teams have had makes me nervous. Just a few minutes till kickoff
**LSU up 7 to zip against Tulame with 9 min left in the first
***LSU scores
LSU 14 Green Folks 0 still in the 1st
*** Whoo HOOO Right at the Start of the 2nd LSU scores LSU 21 Green people 0
****LSU beating the "Harvard on the Bayou" 28-0
*****In the 3rd LSU 35 - Tulane 0
******4th Quarter LSU49 Tulane ZIPPO
******* For those Keeping Score I believe the worse ass whooping we gave Tulane was 62- 0. It is in reach
*********Rats Tulane Scored its a
Final LSU 49 Tulane 7 GEAUX TIGERS
2.
Mississippi State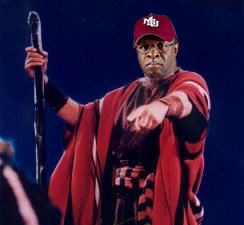 Let my people go!
And behold! There was darkness on the face of the people! And they were without understanding
!
Will Coach Croom and the Miss State bulldogs quit embarassing the SEC today and win against UAB? We shall see. Lose or win
be sure to check out this Miss State board
. If they lose it will be a riot. Anyway good luck Maroon Doggies. I feel for you and we have been where you are at. Well not that low but close. By the way I pick Miss State
*Seems things are getting off for a slow start for the State of Mississippi. UAB 7 Miss State 0 in second quarter
**
HOLY TAPDANCING MOSES MISS STATE WINS
- It is a start of a streak. To bad they play LSU next week MSU 16 UAB !)
3.
Arkansas V Alabama
I am clueless who will win this game. I am looking forward to this game since both of the teams are in the SEC west. I am looking forward to see Bama play. This game will tell us alot what sort of condition both teams are in especially Bama. My hunch is Bama wins.
* 12:01 left in the second Ark 3 Bama 0- messy game already as to Penalties
** At the Half its Bama 10 Ark 3
*** With 9 min in the 3rd it is Bama 10 Ark 9(missed extra point by Ark- ouch that is going to hurt the way it looks)
****On the way back home got to listen to this double overtime game.
Arkansas Wins
beats Bama 24 to 23. This game would have gone into a third overtime if the Bama kicker had not missed the extra point.
4.
Ole Myth v Wake Forest
Ole Miss wins- If they don't expect the home of William Faulkner to be burned down in Oxford.
*Game Delayed necause of lightning
**In the first Wake beating Ole Miss 7 -0
*** It is truly a William Faulkner moment at Ole Miss. Full of shadows and tragedy. In the second Wake Forest 10 Ole Myth 0
**** At the half Wake 10- Ole Myth 3
***** Good Grief like a minute left in the 3rd Wake 27 Ole Miss 3
OLE MISS LOSES
- BAAWWAAAAA- Wake Forest 27 OLE MYTH 3
5.
Louisiana Tech v Texas A @ M
Local interest for me. I so want the Bulldogs to win but I know it will be a uphill struggle but Wac Football is getting better. Of concern is that Louisiana Tech had its hands full with Nicholls State last Saturday.Perhaps they will take inspiration form Nevada's win over Northwestern last night
.
* Nice in the second quarter LA Tech leading 7 -0
** Tied up 7-7 in the second
*** At half 14-7 A and M
****There was hope for a good bit of the game - My Poor Dawgs
TEXAS A and M 45
Louisiana Tech 14-
6.
Boise V Hawaii
-
I think this is going to be a killer game in the WAC and I so wish I could catch it on the tv. Boise is of course one of those teams that could spoil the BCS Bowl hopes of the biggie schools. Boise is predicted to win. I am not so sure. Hawaii is a good team and I think might be flying below the radar. They played a good game against Alabama which is always tough. This could be a upset. If it is there will be sighs of relief from the school currently in the top ten.
* Well Hawaii isnt delivering. Right not Boise is whomping them
**Boise 41 Hawaii 27- Disappointing Hawaii was doing sort of a comeback
BOISE WINS
41 Hawaii 34
7.
Michigan V Wisconsin
-
This game is on right now and it is tied in the 2nd. Wisconsin is a tough team and I have been thinking this will be a upset. I hope so LSU needs Michigan to lose.
*- Seems that Michigan finally woke up Mich 24- Wis 10 in the 4th 9 min to go
**
Michigan wins
27 to 13- Damn
8.
USC V Arizona
USC does not look as impressive to me as last year. They win this one though. But LSU and Auburn fans have a few more hours to dream and fantasize about a loss
.
*I must say if this is the upset of night it would take the sting out of last week. Starting the 2nd quarter 0-0
** USC 3 Zona 0 at the half
***USC 10 ZONA 0 (sigh)
*** USC 10 Zona 0 at start of third Darn
****
Double Darn USC wins
USC 20 Arizona 3
9.
Arizona State V Cal
-
Cal wins but this might be a goody to watch
* Hmm Arizona got out first but in the Second it is
Cal
21 Arizona St 7
** Well at the half it looks like Cal has got this game under control Cal 42 Ariz-14
CAL WINS
-
10.
Notre Dame V Michigan State
-
Going to be a tough game and prob be my evening choice of games to have on the TV as I am listening to LSU on the Radio. No pay per view for me today. There seems to be a groundswell of feeling that Michigan State will win. I am going for Touch Down Jesus since I am Catholic and dont want to spend more time in Purgatory .
* Michigan State , always a dangerous team is giving Notre Dame hell. It is currently 14 to 0 in the 2nd with 6 minutes to go
**This is not pretty Michigan 31- Our lady 14 at the half
*** MSU 37 ND -21 in the 3rd
****Good Golly Miss Molly -People must be saying the Hail Mary's MSU 37 ND 33- Oops missed extra point-that hurts 4:49 left
*****I think Notre Dame is Going to pull this one out ND40 MSU 37 1:32 left but MSU is driving
*******TOUCHDOWN JESUS COMES THROUGH HE MUST HAVE BEEN VISITING SPARTAN FIELD- I cant believe it
Notre Dame finds a way to win
ND 40 MSU 37
********I like Notre Dame but please ESPN know need to start the puffing up of them already
Updated
-
Georgia
Boy the 27 point favored
Georgia
Bulldogs are having some major problems right down against Colorado. In the second it is Colorado 10 Georgia zero and that is on top of what seems to be bad calls against Colorado. Yikes!!!
*Good Grief Georgia is sucking. This sucks- Meltdown in the State of Georgia in 5 4 3 2 1
** Georgia has new lease on life. Georgia 7 CU 13 with 9 min left in the game--bad news Georgia has to waste a timeout on field goal because didn't have enough people on the field
*** Georgia Attempting to a comeback but it is not pretty They waste another timeout 1:30 left
****
GEORGIA WINS
SEC HONOR UPHELD Georgia 14 CU 13
***** Final Thoughts on Georgia. I think Georgia should stay at
number 9
. Every team has a close one like this during the season for the most part. A loss should take you down not a close ball game. Also I expect Georgia to have a nice little quarterback controversy next week.
Ohio
An interesting game developing in the Ohio(1) vs Penn State(24) game
It is the second quarter 7 min left and it is still scoreless
.
* Poor Coach Patterno of Penn State. Getting over a bug and had to leave the field to go to bathroom. Has not returned yet. But in his absense Penn scores a field Goal. At the half Penn 3 Ohio-0
** Damn- Penn State blew a chance early in the third and even missed the field Goal. Ohio has scored. In the 3rd Ohio 7 Penn St 3
***Back from Mass and my hopes as to this game are dashed- Appears that in the 4th things came togther for Ohio.
OHIO WINS-
28 to 6. I hate scores like this. It doesnt show how good the game actually was.
Texas
-
It seemed early in the day we had the makings of a possible upset Sunday. It appears that might be getting a second gasp late in the afternoon
Texas is having problems with Iowa St
down in Austin Texas 16 Iowa St 14 in the second.
*Hmm Looks Like Texas is waking up Texas 23 - IowaSt 14
** Seems like Texas is fine shape- At the half Texas 30 Iowa State 14
*** This game was delayed in the 2nd half because of Weather- Is it me or is there bad weather all over the place as to these games. Right now Texas cruising to victory- Texas 37 Iowa State 14
****
TEXAS wins
looks real solid
West Virgina-
Even though not in my top 10 games of interest West Virgina is tied 7 to 7 with East Carolina State in the Second. I am sure WVU will wake up be we LSU folks can dream.
*I must say I am wishing I didnt have to run to Sat Mass with all theselots of interesting games. With 5 left in the half its WV 14 ECU 7. No telling what the scores of some of these games will be like.
** Appears the dreaming is coming to a end for a West Virginia loss. Tough game though
In the 4th with about 2 minutes left WVU 27 ECU 10
Final
West Virginia wins
27-10
Florida V Kentucky
-
I told a Florida Fan I felt they would have no problem with Kentucky. It appears I spoke too soon. Florida is having in hands full with Kentucy right now. I am flipping between that and the Notre Dame game. Kentucky put on a very impressive performance against Ole Miss last week. Currently with 12 min left in 2nd its Florida 6- Kentucky 0
*Florida 12 Kentucky 9 in 3rd
** FLorida will win this and is a very good team Fla 26 Kentucy 7
***
Its a wrap 26 to 7 Florida wins
. Kentucky is much improved
Technorati Tags:
LSU
Mississippi State
Louisiana Tech
Hawaii
Alabama
Arkansas
Boise
USC
football
Georgia