Responding the the League(Kookdum Alert)
As I posted a couple of days ago, the Pondering American has come to the attention of the radical political organization, League of the South. THe League of the South by the way is an organizaton that advocates for the seccession of the Southern States and to reinstate the old confederacy as a republic.
As can be seen on their web site
, their main goal as they state:
We Seek to Advance the Cultural, Social, Economic, and Political Well Being and Independence of the Southern People by all Honourable Means
.
Yep they are pretty strange. Do not worry my Northern readers, there is no danger of the South attempting to secede from the Union. 99 percent of the great Southern people would just roll there eyes at this nonsense. However, they still deem watching. I have noticed that this organization is getting more radical by the year. Their political thought has become more radical. There association with the Council of Conservative Citizens is of particular concern as well as other groups they are finding common cause with. Their take over of the national office of the Sons of Confederate Veterans is indeed troubling. Go
here to a organization of SCV veterans and hear it in their own words
.
Mr Thomey in a comment to the
post I did
, took me to task.
I also exposed the League here
.He was not the only one that has sent email to me by the way. All of which I welcome. Mr Thomey by the way does not live very far from me in fact. Perhaps one day, we can get together and he explain this kookiness in more detail to me. Now in the post I made previous to this I posted his entire comment to me. It can also be found
here in the comment section
. His words will be in bold.
It is difficult to know where to begin debunking the falsehoods you've written here about the LoS. They are all quite ridiculous, the frightened ravings of an intellectual midget, but allow me to address a few
.
We shall see how much he actually addresss
To begin with, the LoS is neither 'conservative' nor 'Republican' in the senses that I perceive you ascribing to those terms. Through years of observing their actions, one of the conclusions that we in the LoS have reached is that contemporary 'conservatives' never conserve anything except the radical innovations of their supposed leftist rivals, or their own superfluous expansions of those same innovations. Based upon our observing their actions rather than listening to their mindless propaganda, we believe that we have rightly concluded that both major political parties are, in truth, mere factions of a single, socialist, fascist, and tyrannical regime. Both believe in, and are committed to, the perpetuation of a centralised, overbearing, police state-like empire that is aggressive abroad and despotic at home. Therefore, we say, 'A pox on both of them.
'
I am not aware that I ever made the claim the the League of the South was was 'conservative' or 'Republican'. In fact I believe that one of the whole purposes of my post was to point that fact out. Also I wanted to warn conservatives and Republicans to stay away from yall like the plague because you were neither a Southern heritage organization, nor represented the beliefs of southern conservatives or republicans. As to this statements about "empire" I talk about in reference to some of of your other statements.
We prefer to think of our organisation as being rooted in traditionalism. We simply want to defend and advance the traditional principles of our great Southern ancestors - States' Rights, true free trade, low taxes, limited government, sound money, international neutrality, and ordered, Christian liberty. It always amazes me how people like you see these things as, 'evil'
.
First, as a conservative what you refer to as State's rights , I suppose goes under the term Federalism. I believe in a heathly federalist system by the way. However, that does not go as far as your beliefs in which includes far more than I would attach to it. Including in the end seperation from the United States and other matters. Free trade, I am for it also. But it seems to me, Mr Thomey your organization is about as anti free trade as anything. It seems down right protectionist to me. Low taxes we agree on. Ditto on limited Government, a sound monetary system. International neutrality? Mr Thomney doesn't go into detail what he means here but I think this shirt that they sell gives us a clue.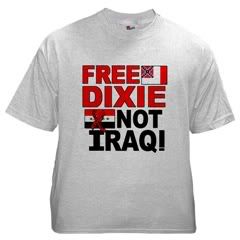 The League of the South lives in a genuine time warp here. International Neutrality, I expect means a lot of things to to the League, all of which is quite destructive. Mr Thomney, I have listened to your radio programs ,
a few can be found here
. I have read your web site. Sir, we are at war. We cannot return to the good ole days of old of 1861. Radical Islam has declared war on us. Their goal is worldwide conversion of the world by any means necessary. That has been made pretty clear. We have no choice to fight this and cannot hide our heads in the sand about this issue. That means we must be active. It means we must draw a line in the sand and support our allies and defeat our common foes. This little planet has shrunk a great bit since the 1800's. Pretending it hasn't is just stupidity. Your political ideas are a threat in its on tiny way to our security. The Foe Sir is not the strawmen you put up, but the people who wish to destroy us all.
Silly us, we thought those were the ideals upon which America was founded and built. If your idea of 'america' is the current leviathan state under which we all suffer, then is it any wonder why we in the LoS would no longer want to identify ourselves as 'americans' or associate with the 'american empire'? The founding principles of America were, and to us they remain, Southern principles. Thus we are Southrons who desire a free and independent republic based upon those traditional principles
.
A quick word on this. The League is just as bad as the far left in talking about the American "empire". Empire is a word they use a great bit just like the far left wackos do. Like I said, it is the Kos wrapped up in a confederate flag. Mr Thomney, I just pulled out my map. What American "empire" for heavens sakes are you talking about. During the last century our people have freed a World. How much of the pacific did we take as our reward for defeating the enemy? Did we take over and keep Japan? Did we rule Germany with a iron fist after WWII and make it the 51st state? How about Cuba? We have told the people of Puerto Rico if they wish to leave our protection, they can if it is there desire. Where in the world is this America empire that the League keeps talking about. Did we take over the Country of Kuwait after we liberated and delcared their oil our own? Of course not. This is radical leftist propaganda covered with the Old Souths' battle Flag and high minded words. Mr Thomney the US has in its history has exported true Southern principles to the world. It has not been a master. As Secretary Powell once stated, the only foreign land we wish to have is a place to bury our dead.
As Southrons, we have not forgotten that it was Republicans who invaded, laid waste to, conquered, and subjugated our once free country - Dixie. It was Republicans who took away our liberty, and over the years they have proved that they don't have the desire or the will to give back what is rightfully ours. They merely add insult to injury. Thus, we are committed to pulling off their mask, along with the rose coloured glasses through which our people have come to view them, and expose the rotting corpse underneath. So, yes, we will continue to de-legitimate the empire while offering alternatives to which Southrons can transfer their allegiances
.
Here we see the kookiness go into overdrive. Mr Thomey, I as well as 99 percent of the south has gotten over General Butler in New Orleans and bad ole Gen Sherman. That was God blessed 1865 for goodness sakes. We have better things to re fight the civil war. Also Mr Thomney, a few facts here. Not everyone in the South were pleased about that war. Many felt that War was a rich mans war. Many in the South felt like that too. But when called they served bravely. Further, lets not forget a great many Southernors(blacks) saw that the Republicans and the Union as Liberators. So please lets get get real here.
We believe that the greatness and stability of the South is rooted in her white, western, Christian civilisation, and that her only hope for the future is in the continued dominance of that civilisation within her territory. We happily acknowledge that other racial groups have made contributions to Southern civilisation, but they have historically done so by assimilating into it, and adopting it as their own. We consider anyone, of any race, who is willing to do that to be a fellow Southron. It is in this manner that relative peace and cooperation among the South's different races has been, and may continue to be, achieved. The contemporary attitude, however, is that the dominant white, western, Christian civilisation of the South must be overturned and replaced by some centrally controlled, egalitarian, multi-cultural utopia. We contend that this is a fool's errand, contrary to God's created order, and eventually destructive to Southrons of all races. Thus, we will fight against such foolishness
.
What? Well it appears that the White Civilization must maintain her dominance in the South according to Mr Thomey. What exactly does this mean? If he means the traditions that came down from since the Magna Carta ,amen I agree. Does he mean common law and the respect for liberty? If so I agree. But one gets the sense that Mr Thomey is talking about much more here. Also Mr Thomey what is exactly white? In the 1920's Italians and other Southern European folks were not viewed as white by many. I have seen the edititoral cartoons from that time. They were horrible. What is this "centrally controlled, egalitarian, multi cultured utopia" he is talking about? What does he exactly fear? Heck I don't know but I believe there is something really nasty happening there behind those comments. The US will continue to be a Christian nation with its laws rooted in Christian/Jewish ethic. For instance as to marriage laws, I believe. But again, I find his wording troublesome. Perhaps we can find some illumination on his recent speech on immigration in Florida.
I allege that this immigrant invasion is a Southern problem, not an 'american' problem. For if one chooses to believe not only the immigration statistics cited in contemporary news articles, but also one's own two eyes, then it becomes obvious to all but the village idiot that the primary target of this invasion is Dixie. The fastest growing immigrant populations are in Texas, Arkansas, Georgia, and North Carolina - NOT New York, Illinois, Pennsylvania, or Massachusetts!! Perhaps this is one explanation as to why the yankee government does nothing about this growing menace. Reconstruction marches on
!!
Finally, there is the patriotic argument against immigration. Our English word, 'patriotism' derives from the Latin word, 'patria', which means native land; and an associated word, 'patrius', which means an inheritance from one's father. With this in mind, let us refer to the preamble of the federal constitution. It states that the union was being formed, among other things, to, 'secure the Blessings of Liberty to ourselves and our Posterity'. This begs the questions of: Who is, 'ourselves', and what is meant by their, 'Posterity'? As much as some hate to admit it, 'ourselves' was white, western European, Christian men - men who sprang from a civilisation capable of understanding, establishing, and preserving their liberty through self-government
.
Their, 'Posterity', if the word has any genetic and/or ethnic meaning, necessarily means their own offspring, or immigrants who were LIKE THEM culturally, socially, and politically. The specious argument of the, 'but America was built by immigrants' crowd overlooks, or purposely buries, the salient fact that the two major waves of immigrants who helped, 'build America' were from white, western European, Christian cultures and countries
.
The vast majority of those immigrants who come here today don't have much, if ANYTHING, in common with the white, western European, Christian culture here. Additionally, thanks to the multi-culturalists who seem to dominate the media and government, those people come here NOT to blend in, NOT to adopt and defend Southern civilisation, but to bring their pagan ways and old grievances, and then demand special treatment from, and dominance over, the native Southern populace
.
South still possesses a remnant of the greatness of white, western European, Christian civilisation, and I am resolved that it is worth preserving and perpetuating. Southern independence, and by that I mean our own free and separate republic of Southern States, is the only course that offers to secure the blessings of liberty to us and our posterity. I have one more Latin motto that I'd like to share with you, and I hope you'll take it to heart. It's based on an oldie, but a goodie. Simply stated it is: Meridies Resurgabit - the South shall rise again!! Join me in the fight. For if we fight, we can win, and when we win, then we'll have something that Southerners haven't had since 1865 - a country of our own. Thank you for your attention, and may God save the South
!
Good grief.
If you wish to read the whole thing go this link
. There is so much to be said here. First, one cannot help to think that the valid public policy concern of assismilation of immigrants into the American ideal is being used as a front for just pure white political supremancy. Mr Tomey is talking about the Mexicans here I guess. To hear Mr Thomey talk about it the Mexican immigrant is akin to the headhunters of parts of the Solomon Island region of the world. So much of this thought is such BS , one does know not where to begin. But the purppose of this post is not examine the League of the Souths view on immigration. But Mr Thomey let me ask you this. What pagan ways and customs are this Mexicans bringing in? What about the last migration wave from Asia? Have they destroyed this Country? Back to the scary Mexicans. Why are you acting like these people were not also larely influnced by our shared Western Europena culture. BEcause they still have some native blood in them? For all that is holy most of them are Catholics. Paganways? Do you actually thing they are secretly performing soem Aztec or Mayan rites?
Again one can be concerned about valid concerns of assimilation and other public policy concerns. But one gets the sense to Mr Thomey that his concerns are quite different. Mainly that his grandchildren or other descendants might look a little browner than him. Anywho returning to his original comment.
We also believe in freedom of association in all aspects of life. For this reason, our vision of a free Southern republic is one in which the current plethora of government mandated programmes, regulations, and restrictions will be a thing of the past. Businesses, churches, clubs, schools, and individuals will be free to determine and enforce their own qualifications for employment, membership, association, etc. without government interference
.
Well Mr Thomey I agree with you here to a certain extent. We conservatives are very much on protecting free associations. But Mr Thomey, what government has enacted policies that say your church has to have people that you don't want. You talk about clubs? What Government policy has said that your club must accept members it doesnt like? Let live in real world here. I would fight for anyones right here for that. But I am curious about businesses and schools that you mention. What exactly do you mean by that. There are tons of private schools that do not have to open their doors to various groups. Are you talking public schools? Is this code to bring back segregation. As to business, does this mean a return to "whites only'. White's onlylunch counters and the like. Please, I would like to to expound on this line of thought. Don't try to hide behind valid conservative and Republican concerns. What do you exactly envision.
Anywho I took the main excerpts but the full post is there to see. To put it in a nutshell, the League of the South is kookdum. That doesn't change no matter how many Latin phrases Mr Thomey throws around. It's political thought is becoming more radical by the day.
I mentioned the radio shows earlier that they largely promote though the net
. This is just one source. They are also quite affilated with this trash
here on the Political cesspool show
. Just take a glimpse though their archives and
see the people they are associating with
.It is amazing the garbage that is coming out of that. One hears how George Bush is secretly forming a one world Government. That those holding facilties being built to hold illegal aliens are not for them but FOR US. I could go on and on. It is kooky conspiracy theories, Racist code lanquage, and many other things. However as I said they are trying to infiltrate orgainizations.
Just ask the memebers of the Sons of Confederate Veterans
. Its kookdum and is limited in appeal but it should still be watched carefully. The world is becoming a dangerous place. Our enemy in the end is not ourselves. It is those that truly wish to destroy us as can be seen on 911. I will probally return to the Lague of the South in one other post today. I will give an update on their activities as well as respond to one other letter regarding the Confederate Theocrat site Little Geneva. Anywho, time for lunch so I shall leve this topic for now