Thoughts on LSU, the SEC, and Next Week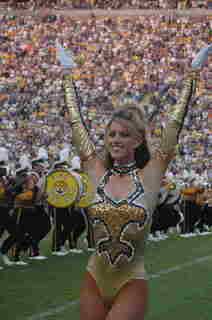 LSU ADVANCES TO
#
6

IN THE NATION in AP poll and

# 7

in Coaches poll
Coaches poll
link
(go to Link for top 25)
1.Ohio State (59)
2Southern California
3.Notre Dame
4.Auburn
5.West Virginia
6.Florida
7.LSU

8.Texas
9. Georgia
10.Florida State
AP poll
-(
link)
1. Ohio State
2. Notre Dame
3. Auburn
4.USC
5. West Virginia
6. LSU
7.Florida
8.Texas
9.Florida State
10. Georgia
More on this polls later
LSU V ARIZONA
-
One final football post for today after
last night very satisfying win against Arizona
. First as in all games there is stuff that can be improved on but I was very pleased with the Tigers performance last night. I along with the rest of the State loves Broussard ,
but Jacob Hester is the real thing and exciting to watch
. I expect him to do big things against Auburn next week.
A word to Arizona. Take heart we have been where yall were at last night. I think Arizona has some talent and is still a rising program. However one word of advice. For God sake make sure you have competent medical staff is with yall next time. I have no idea why QB Tuitama was still playing out there after taking those hits.
It was evident to everyone that the poor kid might have suffered a concussion out there on the field
. OH an let me respond to this :"
Tuitama was being treated by trainers and unavailable for comment after the game. Offensive coordinator Mike Canales said the hit, which drew a 15-yard penalty for roughing the passer, was "pretty malicious."
"
It was, straight on, a shot to the head," he said. "No excuse
." I am not looking at this throught purple and gold glasses but I wouldnt say it was malicious. It was a legitimate penalty and LSU was rightly called on it. But after seeing the replay several times and rewatching the game on replay last night I am not convinced of the "malcious" nature of it. Anyway Tuitama has talent and I look forward to watching him play in the future.
Next Weeks Game - The Biggie LSU Vs Auburn
-
I hate that this Game is up next week. We all love to dream during the Season. At the end of the night on Saturday one teams dreams will be dashed. Lets face it who wins this game will in all likelihood go to Atlanta in December to play for the SEC championship. Also one team's National Championship Title hopes will be dashed. This game is always a nailbiter and this year it will be played at Auburn.
We learn today that the Auburn Coaching Staff has been preparing for this game since January!!!!!.
``We've been planning for this (LSU) game since January," Tuberville said. ``We've talked to people about LSU. We watched film all summer. We've been making subtle preparations for this game all along." For the past two weeks, every good thing his team did, Tuberville wondered if it would be good enough to beat LSU. Every mistake his team made not that there have been many Tuberville worried what such a mistake might mean against LSU.........
Needless to say this game will be rockin and I predict that many employers in Alabama and Louisiana will have a hard time keeping their employees mind on work. More on this Game during the Week.
WHY ESPN BLEAUXS-
I predict that ESPN will schedule its gameday show not at at the LSU/Auburn Game but at another venue likely USC/Nebraska. Of course this makes no sense since the Auburn Game will be the most important game next Saturday in the nation but the USC lovefest must continue at all cost. I am hoping I am wrong on this prediction
.
Update-
As I was typing this the AP Poll came out. The AP to my amazement had Auburn jumping USC and taking the #3 spot. LSU is #6. I agree with those rankings. In this poll we jumped Florida which they have ranked at #7. If freakin Gameday goes to USC next week it is time for ESPN to get some real competition.
OTHER SEC GAMES OF INTEREST

Miss State
in Full meltdown mode after blowout loss to Auburn-
It is not pretty scene at Miss State today.
Just go take a look at their message board
. Coach Croom did not help matters
with these stupid comments
. Tulane is a must win for Miss State next week.
Ole Miss
Gets Stomped by Missouri. HAHAHAHA. I have to admit I was little shocked at the extent of the loss. Especially after watching Ole Miss play Memphis State the week before.
Alabama
I am sensing is in trouble. Alabama had a narrow escape last night playing against Vanderbilt. This is right after a narrow escape against Hawaii the week before. If you are a betting man I would be looking at the
ULM
(Univ of Louisiana at Monroe)/Bama game next week very closely. ULM nearly beat Kansas St last night and is in my view a dangerous team. I suspect ULM smells blood and is highly motivated.
Tennessee
barely gets past Airforce. Let me say that there is no reason why Tenn should have dropped freakin 6 spots in the Coaches poll(link above) because of the nail biter of the game. I so wished this game was televised last night. Air Force is a dangerous team and was playing some wild offense last night I am hearing. The score in other words does not tell the whole story.
Arkansas
beats Utah and shuts them out. It seems despite this there are alot of Arkansas fans not happy about the Hogs performance. I think that is pretty silly myself. Get beyond that USC loss. I know you wanted to unleash your frustration on Utah St and beat them by 50 but sometimes that doesn't happen.
Florida
looks good.
SEC Poll Rankings
In the Coaches Poll the SEC has 4 teams in the Top Ten
.
The AP poll correctly puts four SEC teams in the top ten and puts Auburn ahead of USC
.
LSU Number 6 with Georgia and Florida in in the correct spots.
Other Games
-
Fresno State
is one team I am concerned about that is on our schedule. Fresno State is in the WAC and to refresh peoples memories almost beat USC last year. They came close to beating the Oregon Ducks last night and is really a scrappy little team. Also Fresno State of Course is a big Concerned to my other favorite Team
Louisiana Tech
. Fresno needs to be watched closely and if the stars align for the Tigers we need to make sure they are not sidelined by this team this fall.
ULL
get clobbered by Texas A@ M . Well I was hoping this game would be closer. ULL has some young talent and I expect good results in the future
Notre Dame
- They're good but to be ranked number 2 in the AP? I don't think so.
Texas
gets beat by Ohio State. This didn't suprise me honestly. Ohio State is at this point the best team in the nation.
Oh by the way the
SAINTS JUST WON!!!!!!!!!!!!!!!!!!!!!!!!!!!!!!!!!!!!!!

Technorati Tags:
LSU
Louisiana
SEC
Arizona
Auburn