A look Around My Blogroll plus a little bit of LSU/LOUISIANA/CATHOLIC/CIVIL WAR HISTORY
The Hedgehog blog has an excellent post on the Iranian President speaking at Harvard. Good piece
. I slightly disagree with Romney's stance on this whole issue though as to providing security. First if anything happens to him over here the Arab as well as as the US Conspiracy theorist on the looney right and left will be off to the races. Second, I want to know what he and all his associates are doing at all times.
A Little 08 Republican Primary news.
The Caucus Cooler has the Iowa Schedule of Governor Huckabee
(who I am liking more by the day).
He also has a email that the Michigan Pro Lifers sent out against Romney and there are a ton of comments on that p
ost. Things are getting interesting in Michigan to say the least.
Speaking of Blogroll Roundups
, The Anchoress has a great one herself
. She also has a
very thoughtful post on the Fox Journalist forced conversion issue
.
Called as Seen has a excellent post called Disagreement is not disloyalty
. It is about Powell and Armitage but as he so well puts its the attitude that demonizes these men is what is partially wrong with segments of the Conservative movement. The issue is not one of conservative Republicans versus Moderate or liberal Republicans. It is mainly a issue of this insane demand of having to be in lock step on what ever this mythical "base" says we should be on to the tinest detail. You see it on this immigration debate and we saw it on on Harriet Myers, the nuclear option(gang of 14), and the Dubai port deal.
My unhinged Liberal blogger,
Not Right about Anything
, from Lafayette ,has a good post I enjoyed reading this morning.It is very LSU related and
its about the Tiger Rag, tradition, and my gosh the ever present LSU purple and Gold confederate flag issue
. First we find that the band no longer plays the TIGER RAG during the Pregame!!!!!!!WTF! When did this happen? I disagree with him a tad on the LSU confederate flag issue. The flag is below.
First lets be clear about something. Reading all these hysterical post on both sides of the "LSU Flag" issue one might think that these flags are being flown all over the place. Well they are around but this isn't Ole Miss. I find the tradition quite harmless and I think
Not Right About Anything
is misreading what the General public will think if they happen to see one of these flags on National TV. I suppose if you had to put me in a box where I am at on this issue it is pro LSU confederate flag. I do resist this effort to demonize everything Confederate. I think it is shortsighted and is twising history for political purposes and often just plays into the hands of the extremist groups. Also it really takes the focus off the groups we really should be concerned about(Such as the loons at the League of the South).
I suggest a grand compromise. The first President of LSU was the famous and , in some quarters infamous, Union General William T. Sherman. From the historical record, it appears that General Sherman loved LSU and was loved by the cadets. He left LSU at the start of the civil war. I always thought it was a shame there was nothing named after General Sherman on campus. So a compromise. IN exchange for some fans being able to wave the purple stars and bars we shall rename something significant at LSU after Sherman. Perhaps a Shermans Death Valley Tiger Stadium , or the the Sherman Parade field. I suggest naming the campus fire station after him would not be in keeping in the spirit of this compromise. Thoughts?
By the way History lovers a another Louisiana/Sherman fact. Sherman's son became a Catholic Jesuit Priest. General Sherman was in fact received into Holy Mother Church right before his death. Well for years Father Sherman served the people of New Orleans as a priest. He is buried in fact in the Jesuit Cemetary at Grand Couteau Louisiana.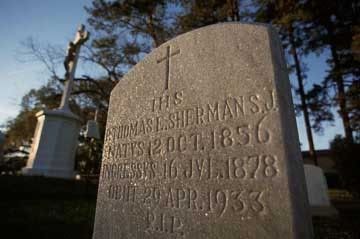 For more information on this interesting man go here
. The next time I pass by Grand Couteau I plan to stop at his grave and say a Rosary for Father Sherman's soul as well as the person beside him. You see buried besides him is another Jesuit Priest by the name of John Slater. Father Slater is the Grand Nephew of Alexander Stephens who of course was Vice President of the Confederacy.
Technorati Tags:
Louisiana
LSU
Iran
Islam
Civil War
William T Sherman
Grand Couteau
GOP