Honoring the Other President Bush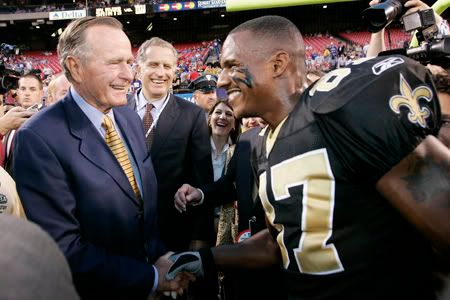 Needless to say, I am thrilled with the Saints winning and the coverage ESPN gave us. Great day for New Orleans and Louisiana. It feels that the Dome has been baptized and the evil and suffering washed away. There was one negative point involving a certain moviemaker that was in the ESPN booth but I shall not drell on that.
President George H. Bush was in attendance tonight at the game. He like many Louisiana people had his own Superdome moment that was not Katrina related. Bush of course received the Republican nomination for President in the Superdome way back in 1988. I wonder what was going through his mind tonight? He gave a great classy and positive pre- game interview on ESPN. He gave accolades not only to the Govt his son heads but to the state and local govt as well.
He , with his typical good nature humor, did the opening coin toss. George Bush along with President Clinton has done the Lord's work with their charity relating to Katrina.
It is a shame but Bush Sr. will not be appreciated till he is dead I am afraid. The media and others will allow some people to speak out about this great man at the funeral hopefully. People forget that as communism was dying, it was George Bush that made sure things did not become a disaster. When the attempted coup happened in Russia, it was Bush at the helm. When the Berlin Wall came down Bush did not gloat and use it for photo ops. He knew that wasn't the time in those delicate days. Eastern Europe came to freedom largely on his watch. He helped guide it and made sure that those countries former overlords were not replaced with a different kind of terror. People also forget the domestic opposition to our first excursion into Iraq. He was willing to do what was right even though he knew it posed great risk. There were many more accomplishments. It should be remembered he served his country before he was President. He was a congressman and helped build the Republican party in Texas to what it is today. He was head of the CIA, the head of the National Republican Party, and ambassador to China. Oh yes he was Vice -President for eight years,t hat should not be forgotten either.
He ,like his son, was made fun of and took a million unfair jabs. Before "compassionate conservativism" we had the the dad's "
thousands points of light
". It too was ridiculed but I still believe in both. That re-election campaign was one to watch.
It is the Economy Stupid
was the theme of the democrats and Team Clinton that year. I am still not sure if "stupid" was referring to Bush or to us voters. I still remember watching CNN the day after Clinton won and the networks announcing we were coming out of the light recession we were in. I SO WANTED TO SHOUT AT JEFF GREENFIELD ON CNN THE DAY AFTER AS HE WAS JUST MENTIONING THAT LITTLE FACTOID FOR THE FIRST TIME. That news and those economic studies of course were not highlighted by the media during the campaign.
George Bush was the last WWII President this country will ever have. I just hope we don't forget the lessons that the pacific fighter pilot that became leader of the free world gave to us.
Bush Sr has been a very classy Ex President. He of all people would have been given a pass to really say what is on his mind since his son is an occupant currently of that office that carries such weight. I wish certain ex- Presidents would take him as a role model. I remember President Jimmy Carter at the Coretta Scott King funeral and it's was like night and day.
I am going to try to keep track of his speaking schedule in the future and try to keep track when he is within driving distance to my little part of the World. I am proud he was our President and am grateful of how he has made his new vocation as ex- President a force for so much good. Hopefully before he dies I will have a opportunity to tell him that fact in person.
God Bless You President George H Bush
Update- LOL Never post a post when you are in excitement over the game still.
Not Right about Everything
pointed out that these pics are not from last night game. As can be seened from the Jerseys and the Stadium. They were the first ones I saw at the Saints Home page so I put them up. Corrected pics to come up shortly. However still a stellar performance by bothe Bush's, the player and former Prez, and the Saints
Technorati Tags:
Bush
Louisiana
Saints
GOP
Republican