Geaux Tigers Beat Mississippi State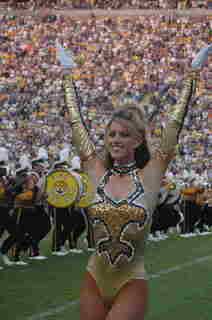 It is game day and GAWDDDDD it is a early kickoff. Freakin 11:30 am. Urggggh. I hate LSU day games. I still have not got over the gospel that LSU does not play as well during the day. But heck it is the truth. Anyway should be a good win today. I was considering driving down for the game at 6 am this morning but I am too tired after this week to makee the 4 hour drive and come back at like 2pm. So we shall have the College Game day(Updated All day and night) up above.
LSU links
-
From the papers
LSU, State to rise early today
LSU Defense Makes Case as Nation's Best
Tigers' defense could feast on Miss. State
Landry sees similarities between '06 and '03
From the LSU Blogs
TigerSmack blog
is interviewing our opponents who are fans and bloggers. Pretty cool.
This week he interviews a Miss State one check it out.
Oh be sure to see
Comeaux the Clarivoyant Corndog game predictions
.
MISS State
-
Be sure to check out the
SIX Pack Forum
.
Technorati Tags:
LSU
Louisiana