More Minuteman Minutegate Satire
These incredible quotes just from the past week:
From the
Washington Times
:
"
Mr. Simcox, who has been criticized by current and former MCDC members for a lack of leadership and financial accountability, had referred The Times to Mrs. Otis, saying she could "tell you everything" to clear up the concerns. Instead, Mrs. Otis issued a statement saying only that all Minuteman donations have been "securely collected, counted and deposited" in MCDC bank accounts
."
and
"Maureen E. Otis -- president of American Caging Inc. in Stafford, Texas, an agency hired to collect, deposit and disburse donations to the civilian border-patrol group -- told The Washington Times that neither MCDC President Chris Simcox nor the group's board of directors had given her permission to "disclose any numbers
"
From the
Arizona Free Republic
.
"Simcox estimated that MCDC has raised $1 million, plus about $600,000 to build fencing along the border but said that he can't be sure of the amount. He said the organization hired accountants and consultants in 2005 and set up a "caging" account controlled by a lawyer to ensure that donations were handled property
."
"
Board member and Executive Director Al Garza said he has no idea about its finances. When asked how much money his organization has received in contributions, Garza said: "Oh, geez, I don't know. I don't make it my business. I refuse to even ask for the figures. . . . They're donations being well spent, I can tell you that
." "
Only our auditors and our caging company know exactly how much we've raised," he said. "It's not my job. That's why we've hired the best independent auditors
."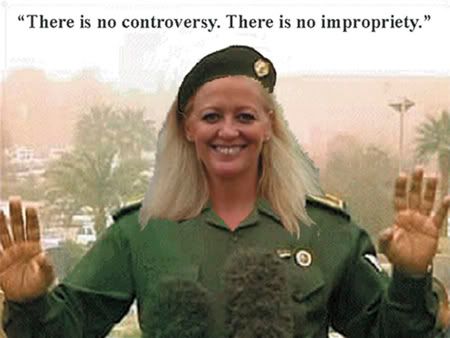 "Connie Hair, a spokeswoman for the group, said its financial situation is simple. "There is no controversy," she said. "There is no impropriety
."

Technorati Tags:
minutegate
,
minutemen
,
minuteman
,
Chris Simcox
,
Alan Keyes
,
Diener
,
Response Unlimited
,
American Caging
,
Declaration Alliance
,
Declaration Foundation
,
William Greene
,
Rightmarch.com
,
Politechs
,
Response enterprises
,
arizona
,
politics
,
immigration
,
illegal immigration
'
Arizona Politics
,
Graf
,
Political Humor
,
political satire