The Democrats Amazing Hypocrisy On Immigration, Why I am Proud to be a Republican, and meet the Liberal Democrat's Version of Tom Tancredo
UPATE-II - Migra Matters added another comment to this post. I feel instead of a quick comment that I will comment and expand and clarify my line of thinking in this area in a seperate post tonight.
Update-
Before going to bed I checked in on this post and Migra Matters was nice enough to respond. I glanced at his response and he brings many points I have anticipated would be brought up. However because of the hour I shall prob comment on this tommorow in the comment section whn I am more clearheaded. Thank again Migra Matters for responding.
Democrats and Fellow Travelers INDICTED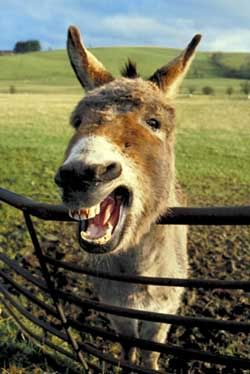 I mention people in my blessed Republican Party, that I disagree with on the immigration all the time. But something has been bothering me for a while and a certain blog has prompted me to post how irresponsible and two-faced the Democrats and many liberals have been on this immigration issue.
I was playing around with Technorati again trying to figure out why my tags were not showing up on their site. I came across this site.
Migra Matters
that bills itself as a place where immigration policy is discussed. It bills itself as a site of Progressive Immigration Reform. Here are some some samples of Migra Matters Posts:
Border to be opened up for Cubans
-
While House Republicans tour the country hoping to drum up votes in November by advocating the closing the southern border and the repatriation of one group immigrants - the White House announced a plan Friday to help shore up Republican prospects in Florida by opening the border to another group of immigrants....Ironically the day before the policy change was announcement, House Republicans brought their immigration road show to Sen. Frist's home state of Tennessee to discuss the effects of increased immigration on the US healthcare system and individual American taxpayers
.
Sensenbrenner testy over accusations of bigotry
-
Oh look ma' the circus is comin' to town
.
It appears as though House Republicans plan on spending the rest of the summer break touring the country with the road company of their newest production; "The Great Immigration Dog and Pony Show
.
Hastert and Boehner do Joseph Goebbels proud
-
Over 500 economists refute right-wing immigration myth.
-
Making sense of the GOP's immigration schizophrenia
-
Well, before I begin this overdue indictment of Liberals and the Dems let me comment on the excerpts I have in bold from this blog. As to the Cuban situation, the blog is pretty misleading as to what "White House" Republicans are doing. White House Republicans are not advocating closing the border. I suppose this blogger goes deaf when the White House speaks. George Bush is trying to find a solution. He is advocating guest workers programs and a path to citizenship. He is for Nafta and free commerce. As you can tell from this blog they have other issues with George Bush. To
Migra Migration
pick on the right republicans and others next time will you. More on how you can redeem yourself later.
The blogger talks about the Dog and Pony show coming up. Well I agree it is that. But missing from this is that the George Bush is planning to go and still speak up.
Even though Tancredo has basically told him to stay home and shut up
. That blog by the way is not a bad place to get information really. You just have to get passed the slant.
This post is about the glaring Hypocrisy of the Democrats and liberals. Notice no talk of Democrats and liberals and maybe what they are doing in this debate on
Migra Matters
or elsewhere. It is all the GOP. Well lets set the record straight some.
Goerge Bush's ,no matter what you think of him, heart and policy on this issue has been pretty consistent. He wanted a immigration bill. He wanted a bill that secured our borders, that had a guest worker program, and a pathway to citizenship. He wanted the people here, even though here illegally treated with dignity. He asked for a civil discussion and reminded us that these were human beings we were talking about. He was going into this messy issue of immigration with all that is associated with it. That took courage and to be honest it was not politcs wise the best thing to do if you it at it in a cold analtyical way.
Well the Republicans went through hell. At some point I thought the Democrats would reach out to the President. To stretch out their hand and help guide this debate and support him. Well besides Ted Kennedy ,that has a bunch of illegal Irishmen he wants to get make sure are treated right and fair, the DEMOCRAT party has been
AWOL
. Repeat
AWOL
. While the lives of over14 million people and their families(many American citizens) hang in the balance the Democrat party has been absent. I hope the Hispanic , Latino, and Asian voters noticed that. Trust me, I shall point that factoid out a great deal. In fact I am contemplating a whole seperate blog to help broadcast that message. That shows my level of disgust. You see if the Democrats had come forward and tried to guide the debate and given their shaky and uner attack Republican collegues some cover, we might have a bill now. Really. More on the Democrats in a minute.
Republican Heros

-
There have been many Republicans that are trying to do the right thing. Let us start with Social Conservative and
Republican

Governor of Arkansas Mike Huckabee
. Also a man that has Presidiential ambitions in 08. Well as can be
seen here
because Mr Huckabee knew that immigration was a complex issue and that these were human beings, he was called to action. He even supported that
these illegal kids have a right to a education
. Opposition to that was came both from Republicans and
DEMOCRATS
. He is a Governor by the way and he is being attacked by the fringe. But nary a word of support from Progressives. This man has shown true leadership and like George Bush at a high political risk. Where were the Dems to give him cover. It would have helped. It didn't happen. Perhaps they didn't want to associate with someone that is a Christian Conservative and saw this as a pro-life position. Lets talk about
Senator Brownback of Kansas
. BrownBack has not shrunk from his view that immigrants are not the enemy. He believes that immigrants are the lifeblood of this country and that we can welcome them and secure our borders. He is another 08 hopeful that has much to gain from not rocking the boat.
The Weekly Standard said
:
Social conservatives couldn't have a
better friend
on Capitol Hill than the Senator from Kansas. On the cultural divide, he stands as far away from Sen. Kennedy as Pluto is from Mars. Yet, Brownback was instrumental in getting the immigration bill out of the Senate Judiciary Committee. Upon passage, he noted the bill, which also tightens border security, isn't "amnesty," which some conservative critics have
falsely claimed
in much the same way liberals did in accusing Republicans of "cutting" programs when, in fact, they were just slowing the rate of spending growth
. But now he is called Amnesty Sam by the Tancredo crowd. See
Tom Tancredo: Sam Brownback 'Miserable' on Illegal Immigration
. According to the people that try to shape public views and in which Republicans Congressmen watch to see the prevailing winds
this paper reports:"Brownback has been out front among Republicans for his support of a guest-worker program. The presidential aspirant is facing serious heat for his position. Human Events, a well-read Republican blog, said Brownback's immigration stance "should put an end to any remote chance he had at the White House
. Now I could on and on. I could talk about
Senator Lindsy Grahmn
of South Carolina that is trying his best to reach an equitable solution. OF course he has future ambitions too and needless to say this was a risky issue for this first term Senator. Needless to say We have seen that
Sen John McCain
has taken this issue by the horns and has showed great courage. McCain is another Presidential hopeful in 08. Shall we talk about
Republican Representative Chris Cannon
from Utah. He has been up to neck with this issue for years. The Tanton groups and anti immigration forces have targeted him for years and tried to defeat him twice. We had a great battle in Utah a little over a month ago. The President weighed in and we spent precious resources to maintain a sane voice in this debate. What about
Congressman Mike Pence
. Now I might disagee with him on the specifics , but this rising star has been targeted because he dares to find or try to offer any compromise.
The Democrats Failure.
So we have Three GOP Presidential hopefuls trying to find a solution to this problem that will work and still treat these people with Human dignity. We have two rising stars in the GOP that are trying to do the same. Finally we have the President of United States that is spending whatever political captial that he has left in his lameducked administration to try to find a solution. There are countless other GOPers too that are doing the same. All tackling a issue full of emotion and political dangers. A issue that cannot be explained in a 30 second soundbite. The Democrats leaders on this issue have been:
. That is right a big blank. I never see them on TV or on the talking head shows. The only people I see are people like Tancredo that are screaming that he and others will try to defeat any Republican that goes against the people he represents. I see Republicans talking and discussing with other Republicans but nary a Democrat. Even Ted Kennedy has been missing in action lately. Why is that? Why when tens of millions of peoples lives are at stake that there is no call on the left to work with the President and many Republicans to reach a solution. How come I don't see this issue discussed hardly any on Democractic Forums and blogs? When I hear it discussed it is either (1) OPEN AND OVERTHETOP Glee that George Bush might get defeated again, or (2) look at those nasty Republicans. You know there are hundred issues to make political hay over. This should not have been one of them and especially not to be used in some stupid political caculation for Novemeber. But I suspect it might be something else. Democrats will produce the occasional Hispanic congressman from a safe district but often no one else in the public square. To say the least I find Sen Clinton, Sen Biden, and othesr action on this issue quite telling. I don't think a ocassional press release helps much really.
Could it be that perhaps this has something to do with Organized Labor and their concerns
? Well we have been fighting these groups for years. In fact the Democrats gained a Senate seat when Republican Spencer Abraham from Michigan went down by 40,000 votes over this issue in 2000. Another Republican brave voice. He was defeated by the Tanton groups that have no real right versus left views but just this insane radical population theory. From the Southern Poverty Law Center:
During the 2000 Michigan senatorial race, FAIR ran ads that essentially suggested that Spencer Abraham [R-Mich.] was allowing terrorists into the country by backing higher numbers of visas for immigrants with high-tech skills. The ads also implied, but didn't say directly, that that was because Abraham was an Arab American.
Did the brouhaha over those ads hurt FAIR? Didn't Alan Simpson, one of FAIR's biggest supporters in the Senate, resign their board as a result?
SWARTZ: He did! Simpson condemned the ads. I think the attacks on Abraham really hurt FAIR among certain Republicans. Something like 20 to 25 Senate Republicans put their names on a letter denouncing FAIR for the Abraham attack
. OF course, because of his loss and a certain Repubican Senator's defection from Vermont yall had control of the Senate. So who cares. It would be nice if his Democrat replacement would have the honor to take a leading role against these people. I wonder why she doesn't? Hmm , I could go and on. Perhaps the blog
Migra Matters
and others will talk about the Congressioanal Black Cacucus that often when talking about hispanics sounds like to me to be more like the Council of Conservative Citizens. Let me give one word of advice to the people on the left. I wouldn't play political games with this issue.The people that are behind this are very non partisan in a way. If you disagree just go look at the boards of FAIR, CIS, and Numbers. They should not be played around with. They will be after you next. But there is always redemption as they say. It is not too late. We can come together and stop the bickering and agree to try to find a "Solomon" like solution to this. To the Democrats, Liberals , and Progressives does your hatered of Bush extend so far that you will not join us in reaching a solution? To
Migra Matters
blog a chance at redemption.
Meet the Liberal Version of Tom Tancredo- Bennie Thompson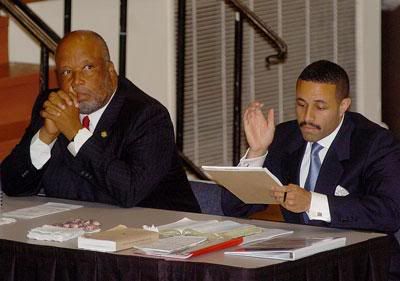 (Congressman Bennie Thompson on left Chuck Epsy on Right)
To the progressive blog Migra Matters, Democrat Bennie Thompson
is from Mississippi. He district is a majority black and it will be hard for a Republican to win.
Even though I do recommend people support the woman, Yvonne Brown, that is carrying our banner
.(I will have a seperate blog entry on her later this week). Bennie Thompson is also the ranking Democrat on the Homeland Security committee. If the Dems take the House he will be Chairmain(
God help us if that happens
)Congressman Thompson had opposition in his primary from Mr Epsy this past fall. When I was in Mississippi I went to one of his political forums. He basically said that the policy should be to deport all illegal Mexicans. This man if the Democrats take control of the House will be head of the Homeland Security committee in the House. A committee that will play a large role in any future immigration debate. In fact according to the Vicksburg Post:
Thompson said he supported a pathway to citizenship for immigrants in the United States legally,

but that all illegal immigrants should be deported immediately

. He also said the government should "make sure individuals who work should be paid a living wage. Contractors who pay sub-minimum wage should be fined."

Espy

said existing laws should be enforced and border security should be increased with a comprehensive plan."I am simply for increasing that border patrol, " Espy said. "We must do it.
"
I find it amusing and sad at this situation but it points out the truth of what this whole post is about.
Liberal Democrat Bennie Thompson
that could Chair one of the Ranking Committee's that will handle immigration is as extreme as Congressman Tancredo. While his opponent,Chuck Epsy, supported a comprehensive approach. What help did Epsy get from Democrats that say they are concerned about immigration? The answer
none

. The DEMS SUPPORTED A MAN THAT WANTS TO DEPORT ALL ILLEGALS NO EXCEPTIONS AND HE COULD BE HEAD OF THE HOUSE COMMITTEE ON HOMELAND SECURITY.
Dems and liberals you stand indicted. However, there is chance for "amnesty" as they say. Come to the table and help us find a solution. Perhaps
Migra Matters
blog will speak out against Thompson and urge his defeat. I mean do they want him head of the Homeland Security Committe where much immigration bills will have to go through?
Why I Am Proud
To Be A
Republican
As the Democrats have been AWOL because of either political caculations or fear on the immigration issue we Republicans have not. That is something to be proud of. I am glad that we have a Republican President that was the first to really try to deal with this problem. I am proud that so many Republican 08 hopefuls have not taken the easy way out and are dealing with this issue in a honest and tough way at political risk to themselves. I am proud that according to polls most Republicans favor a comprehensive approach. I am proud we stood up to the forces of extremism and fear in Utah when the Democrats and Liberals did not and are not in the Delta of Mississippi. I am proud we are the party that deals with serious issues no matter how unpopular. We are still the Party of Lincoln. We are still the Party that largely gave the Votes to end the Evils of Government Mandated Segregation and State Mandated loss of voting Rights. That party is speaking today. That party shall prevail. I am proud to be a Republican.
Technorati Tags:
Republican
Democrat
immigration
illegal immigration
Bush
Republican
2006
Mississippi
Hispanic
politics
latino
latino politics
Hispanic politics
Latino Republicans
Bennie Thompson
Yvonne Brown