Breaking Washington Times Does More On Minutegate
Well late tonight/this morning a
New
Washington Times article was released about Minutegate/ Connie Hair/ American Caging/ Diener/ Mary Lewis/ Simcox/ Reponse Unlimited and the whole sorid bunch. Oh and by the way this is not a retraction.
Border group's finances a secret
-
A
Texas firm that manages hundreds of thousands of dollars in donations to the Minuteman Civil Defense Corps says it has not been authorized to divulge a detailed accounting of the funds, despite assurances by the MCDC's top official that it would do so. Maureen E. Otis -- president of American Caging Inc. in Stafford, Texas, an agency hired to collect, deposit and disburse donations to the civilian border-patrol group -- told The Washington Times that neither MCDC President Chris Simcox nor the group's board of directors had given her permission to "disclose any numbers." Mr. Simcox, who has been criticized by current and former MCDC members for a lack of leadership and financial accountability, had referred The Times to Mrs. Otis, saying

she could "tell you everything

" to clear up the concerns. Instead, Mrs. Otis issued a statement saying only that all Minuteman donations have been "securely collected, counted and deposited" in MCDC bank accounts.

This scam is so disorganized. This folks remind me of the people in that Movie
The Fish called Wanda
or perhaps
ITs a Mad Mad Mad World
.
Telephone calls to Mr. Simcox in Phoenix, where he reportedly is on paternity leave
,

(Wasn't Simcox just a few days ago like a Thousand miles away giving out checks from his PAC and appearing at events?)
were routed to Minuteman spokeswoman Connie Hair in Virginia, who said the organization was not going to release "any unaudited numbers." She said that an audit will be completed in November and that any release of figures prior to that "is just not going to happen
."

Mary Parker Lewis, a top MCDC consultant, has said the audit seeks to establish MCDC as a tax-exempt, nonprofit organization. She told The Times that MCDC would meet "all its legal obligations" in seeking to organize. In April, Mrs. Lewis and Ms. Hair declined to answer 17 written questions submitted by The Times concerning MCDC finances after several current and former Minutemen first raised questions about money coming into the organization. They also did not respond to a follow-up list of seven questions in June. MCDC has not released any financial or fundraising records since its April 2005 creation to either the public or its members. Disclosure statements promised to The Times by Mr. Simcox in October and later in April were never delivered. He since has accused critics of being racists, anti-Semites and "a small handful of disgruntled people who have been terminated
."
Send more Money though

Last month, several Minutemen questioned what happened to donations collected since the group's first border vigil in Arizona in April 2005. They said they had no idea how much money had been received, how it had been spent or why it was being routed through a Virginia-based charity headed by conservative activist Alan Keyes. Some of them have since challenged claims by Mr. Simcox that MCDC "spent probably about what we collected" to pay for supplies for Minuteman volunteers on the border, including satellite phones, radios, flashlights, maps, portable toilets, thermal imaging cameras, night-vision cameras, computers, water and food.

Mike Gaddy, a retired Army veteran of Vietnam, Grenada and Beirut who helped organize the Minuteman's April 2005 vigil as a field coordinator, said that if Mr. Simcox spent about what was collected to purchase supplies for the volunteers, he didn't see any of it. "An awful lot of the equipment I saw was donated," he said

Other Minuteman members confirmed last week that much of the equipment they used during the border vigils, including night-vision binoculars and Global Positioning Systems, was donated. Gary Cole, MCDC's former national director of operations, said he personally collected "tens of thousands of dollars" in donations during the 30-day border watch in April 2005, but was never told how much money had been collected or where it went. He said he later was fired by Mr. Simcox as a national director "for asking too many questions about the money."

Last month, Mr. Simcox said $1.6 million in donations had been collected, although he had no documents to verify the claim. He said $1 million went directly to MCDC and $600,000 for a fence on the U.S.-Mexico border, all of it handled through the Herndon-based Declaration Alliance, founded and chaired by Mr. Keyes. Mr. Keyes has endorsed the Minuteman organization as programs of Declaration Alliance and the Declaration Foundation, another Virginia-based charitable organization he heads. He also accused critics of being "decidedly racist and anti-Semitic," saying they had been removed as members of the Minuteman organization. For a fee, American Caging manages money collected by nonprofit groups, their telemarketers and direct-response agencies. Caging firms give nonprofit organizations the ability to receive and disburse donations without having to hire a staff.

In addition to MCDC, the firm's clients include Declaration Foundation, Declaration Alliance and the Declaration Alliance Political Action Committee. It also has handled funds for Mr. Keyes' unsuccessful political campaigns, including his failed 2004 senatorial race in Illinois, for which it was paid $30,530. American Caging also handles other clients aligned with MCDC, Mr. Keyes and the Alliance organizations, including Diener Consulting Inc., which serves as the Minuteman group's public-relations arm, as it did in Mr. Keyes' unsuccessful presidential and senatorial campaigns; and Renew America, a fundraising organization founded by Mr. Keyes that provides a link for donations to MCDC through Declaration Alliance. Other American Caging clients include Response Unlimited, which makes mailing lists -- including the MCDC membership -- available to conservative mailers and telemarketers and has an "exclusive contract" with Declaration Foundation; and RightMarch.com, which raised $500,000 for Mr. Keyes' 2004 senatorial campaign and helps raise Minuteman donations through a link on its Web page to Declaration Alliance. Mr. Simcox also serves as "honorary chairman" of the Minuteman Political Action Committee, which says it has spent $350,000 this year to help support several candidates. Mrs. Lewis, who served as chief of staff to Mr. Keyes in his presidential races and has been affiliated with Diener Consulting and Renew America, is the committee's secretary
.
Oh Mr. Washington Times reporter. Please see if the Washington Times can spare some pocket change to send you to Houston so you can check out this Amrican Caging thing. Important questions would be are you really a corporation and if not why have you been saying you are. Of course be prepared that Mrs Otis might not open the door. In any event if she refuses to talk to you may I suggest you might talk to current and past employees of American Caging. I am hearing they want to talk. That might be profitable as to finding out what is really going on.Also sidestops at the the civil record section of Harris County Courthouse and neighboring Fort Bend County might likewise be illuminating. Plus a interview of this Peter Kunz who works for Diener in Penn and is a lawyer(but doesnt practice law in Penn or anywhere it seems) and on some Minuteman/Diener memos as a their lobbysit(but doesnt appear as a registered Washington DC lobbyist on any records) and also is the Fence Contracter on other records might be nice. Till then let me tell what I think this really is-
We appreciate your interest in FrEeing the Republic from the infiltration of troublesome Greenbacks which come into this country through a number of nefarious ways.Millions, perhaps billions, of them move among us undetected.
We have it on good authority (read it at LP) that several of these Greenbacks have been spotted in your area.They're everywhere.Your schools, your grocery stores and your churches.If we fail to act now, how can we ensure a future for your children free from the worries these Greenbacks inevitably bring with them?
Please take a stand with us to get these Greenbacks off our streets once and for all.Our MCDC (Mucho Cash Dinero Cha-ching) Chapter volunteers are ready to station themselves in your backyard to observe the movement of the filthy lucre in your neighborhood and to protect you and your family from ever having to come into contact with the unclean menace. (You can never be sure where they've been).
Our volunteers are in need of the necessary equipment to monitor the situation in your neighborhood as they are all volunteers and never get paid a whit to follow their avocation.We know we can count on your support for these True America Luvers.
Enclosed you will find an envelope for any Luv Offering you can send to support our mission. (Please confirm your mailing address and any email addresses so our Chapter volunteers can find you.)For prompter service, call us at 1-900-GOT-CASH and one of our many telemarketers will be happy to serve you.
We accept cash, MasterCard, VISA, American Express, Savings Bonds (matured only) and PayPal.Please, no checks and NO NORFEDS.
FOR VICTORY AND FREEDOM!
God Bless,Chris & Connie
Your Professional Greenback Removal CONsultants and Media Darlings
MCDC is a wholly and holy owned subsidiary of OLAS UNIVERSE, Inc.
We will get around to telling you where the money goes when we damned well feel like it
.
What do y'all think?They seem like a legitimate organization to me.I mean they sent me a business card and everything.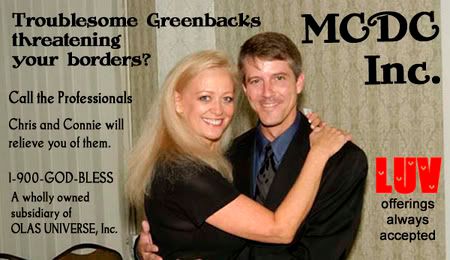 (the
Above satire was shamelessly copied from this thread on Clown Possee.
I am not that original and funny. Above is pictured Connie Hair of Diener and associates and Chris Simcox of the minutemen-OLAS is a term that of course means Our Lord and Savior but in internet political forum lingo refers to Alan Keyes because his supporters view him as the true Savior of the Conservative movement)
Technorati Tags:
minutegate
,
minutemen
,
arizona
,
Simcox
,
American Caging
,
Maureen Otis
,
William Greene
,
minuteman
;
alan Keyes
,
Diener Consulting
,
renew america
'
response unlimited
,
Minuteman Pac