Friday Night Update
After a delicious dinner out tonight. Time to settle in for the evening. The appears to be some sort of 24 marathon which is quite exciting. So I might do a few blog entries tonight. It won't be all War oriented but I am keeping a eye on it. Starting at 10 pm Central ,I will probally do another Live blogging as I monitor events.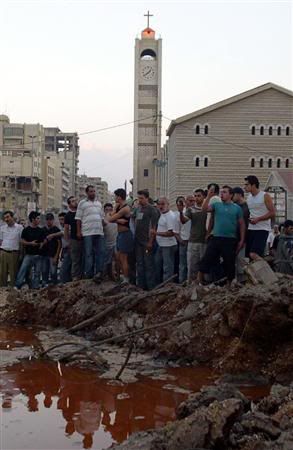 This picture is very interesting That Hole and rubble those men are standing around was a Hezbullah Strong hold in Lebanon that was just destroyed by the Israelis. As you can see in the background, these terrorist are very good about what they set their stuff up next to

There are of course many Americans in Lebanon right now. Including the good Priest above that is head of St Louis University. From a upi Article I ran across
The president of Saint Louis University, Father Lawrence Biondi, is in Lebanon, awaiting word on when he can return home to the U.S.
Biondi traveled to the Middle East this week to deliver the commencement address at Beirut's Notre Dame University. That event has since been postponed because of fighting between Israeli and Hezbollah forces.
SLU spokesman Clayton Berry says Biondi is okay and is keeping regular contact with his office.
"Everyone who has spoken to him has said that he feels very safe and secure, he's in very good spirits," Berry said, in an interview. "He's currently staying in a hotel that's located outside of Beirut and has been in contact with the U.S. embassy - he's awaiting their direction about the timing of his return."
Biondi was originally scheduled to return to St. Louis July 25. Berry says Biondi still plans to meet with local Lebanese religious leaders.
The Reverend Andre Mhanna, a Catholic priest from St. Louis, is traveling with Biondi. St. Raymond's Maronite Catholic Parish, where Mhanna is rector, says as of Thursday night, Mhanna reported he was okayA couple of more bloggers to addFrom Syria I believe-Free Michel Kilo Now and from Israel- Ontheface blog to which I have ran across of on the past and enjoyed.