The Pope Gets the Keys to the Kingdom of Volvo( The Pope New Wheels)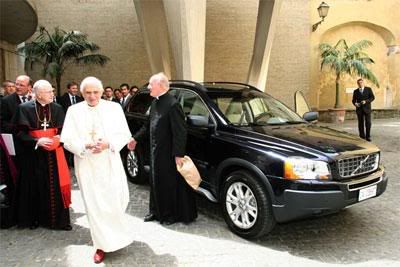 The
American Papist
bring us
this story of the Pope's new wheels
.
Good to know the Pope will be safe as he battling horrific Rome Traffic and cruising the Autobahn at 200 mph on his vacations.
Also, Let me direct you to these links the Papist has relating to some other Catholic News. Many
metropolitanarchbishops just received their palliums from the Pope
. What a pallium you might ask?
This blogger explains
. The Americans included
Archbishop George Hugh NIEDERAUER of San Francisco, United States.
Archbishop Daniel N. DiNARDO of Galveston-Houston, United States
Archbishop Donald William WUERL of Washington, United States
Plus, Our Pope tells the new Archbishops evil will never defeat Christ Church
as reported in this roundup of the event
.