A look around the Blogs
We are going to leave Kookdum for a while(well at least till I can get two non Kook post out). I have done two post below on all the developments. The important thing about dealing with kookdum is to treat it with humor and sarcasm But also to be aware it exists. I refuse to give their race based and conspiracy theories the respect they want so much. Its dangerous don't doubt that.But one should be careful of treating it like legitimate political thought
Immigration
Strata
has
part 4 of his series GOP utter failure
. Its good constructive criticism. It focuses on immigration and some mistakes that the House Gop is making. I agree totally. As he points out we are at War right now and many in the party wants to obsess with people that will not be made citizens for 12 to 15 years. Its the War folks.
Faith
Amy Wellborn
has some great entries today. Yesterday the Church celebrated the
Birth of St John the Baptist
. The Pope took some time today to meditate on that feast as well as others as she posts
here
.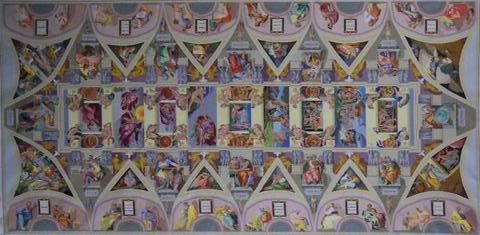 Also do you want to cross stitch the Sistine Chapel. Well some Lady did it you can too. She has a
book
,
a web site
, and even a
yahoo group
devoted to people that wish to cross stitch the entire Sistine Chapel. More info
here
and
pics
here. Again HT to Amy. I have to admit thats way cool.

In LSU News we still do not have a baseball coach yet to replace smoke. Uggggh. We
do have an interview
with the Notre Dame coach though. Go
here to keep up to date
Cannon versus Jacob in Utah
As I posted yesterday, the Republican primary in Utah is of extreme importance. I am a Cannon man for the reasons I mentioned. HEre is a great article
on Cannon by the way
. It talks about how he has to deal with people from OUTSIDE his state calling him up in the wee hours and calling him a traitor. I don't blame Jacobs for that. Jacob is a good man no doubt. The forces that caused this nastiness was set in motion years ago. More on the Cannon/Jacob race later. Again its all turnout.
Decision 08
Our
Huckabee blogger on my list
has a couple things to note.
He notes that Huckabee will return to Iowa
after he backs from the Far East.
He also notes
an interesting poll showing that Huckabee is still in that top 5 and how the National experts are saying he picked up a good guy for his campaign/PAC
At Catholics for Brownback,
this blog is noting that Senator Brownback is calling for a serious debate on bioethics before a big stem cell research vote
. Folks this a big sebate here and important vote. Its not all imigration that its important up there.
Our Romney blogger
notes some updates on his guy by
Iowans for Romney blog
. This blog hits on Romneys
view on immigration and illegal aliens
. Hmm we shall see on this topic. But plenty of stuff to chew over there.
I intend to do a more comprehensive posting on the 08 maybe tomorrow morning or late tonight.. I want to chew over what some of the NH and Iowa bloggers are saying about that race. It depends how much info is in. Also, there should some new polls on this Allen race in Virginia. I am going to wait and see if any come out. Senator Allen is a major contender in 08 but polls have shown his Senate race tightning a great deal. I think that needs to be analyzed a tad also.