Cannon/Jacob Election Night Live Blogging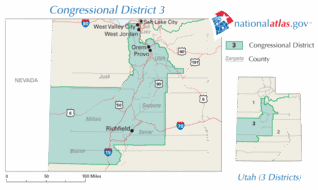 Round 1 of the Fight for the GOP SoulPOLL CLOSE AT 8PM MOUNTAIN

4:30 pm--I am going to put this post up now. I will be trying to cover this race from my little ole computer 2000 miles away. I will try to keep you updated on the race from whatever resources I can find. There will be little to report for several hours. However, for your amusement and education I will be putting up threads from the Free Republic Forum. The Free Republic is a active conservative forum to which I post at times. Be warned the Free Republic is full of Cannon haters and people who think that Tancredo is best thing since sliced bread. But there are a few of us conservatives there that keep up the fight. By looking at these threads one can understand why this race is so nasty. This place will become a suicide watch zone at the end of the night for either side. I expect there will be a live election thread that will be a good source of info as Utah Freepers type in whats happening also. Free Republic threads to which I will also be posting on will stay at the top. Updates will appear below
TVKSl
is a TV station out of Salt Lake.
This link
will take you to their primary page well they have links to the election results and break down all the races. You can leave comments too.
This link will take you directly to where you can the results as they come in to the station.

Talk Radio Stations that are Covering Race that can be Heard on the NETKNRS KTALK Free Republic Threads
12:39-
Jacob Concedes, Cannon Moves on to General Election
(this will be a fun one)
9:02-
Cannon/Jacob GOP primary results thread
4:32-
House Race Hotline Extra: Utah 03 (Utah GOP Exec. Dir. says good chance Cannon could go down)
4:51
Tom Tancredo: "I will run for President if I can't anybody else to take this [immigration] on"

Good Grief!!!!! Not directly related to election but in reality is.
----------
ELECTION DAY/NIGHT NEWS
1:40 am Alleuia Alleuia its over Cannon wins
55.8%32,306-Cannon
44.2%25,589-Jacob
12:26 Jacob has conceded Cannon goes on to the General election I will post the final numbers on this thread. For fun I will post the Free Republic Thread on Jacob conceding. If you look around there you might see borderbot central go beserk. Good times.
Here is the link
to the concession article. FR thread posted above
12.22am-with close to 77 percent reporting
56.43%27,115 Cannon
43.57%20,934 Jacob
I will double check but I think the guy they had go against Cannon two years ago got 42 percent.
So for all that bile and money and junk they threw at Cannon we see they gained maybe 1.5 to 2 percent. hahaha- The sane Republicans should not let these numbers be spinned. Real low out election 10 percent. Which might show that this illegal immigration issue is not as big of a issue than many say it is even among the base that is supposed to want the House bill. More numbers soon
12:02- with almost 60 percent in Cannon- 57.21% 21,083 Jacob-42.79% 15,770
11:47- 50 percent is in and PONDERING AMERICAN election analyist expert calls the race for CANNON. Yeah. Looking at the numbers there is no way that I see Jacob can pull it out. The importance will be the percentage now. As you notice on the Free Republic Thread the Tancredo folks are starting to spin. More on that later. After my smoke break, more real numbers as they come in and analysis
11:43- OK when 50 percent comes in I am going to issue some good news
11:30= Ok these nunbers are coming in quick. It looks good for cannon. Salt Lake is still close but through out the night Cannon has held a 100 vote lead. I am almost ready to call this for Cannon. I suspect local TV is about too in Utah
With 40 percent in
57.55%15,162(Cannon)
42.45%11,185(Jacob)
Now I am concerned about these Salt Lake numbers but there seems to be a trend that has kept then just 100 votes apart on the average
11:26- Ok some good numbers coming in stand by
11:10 Cannon still maintaining lead but still barely has a 100 vote lead in Salt Lake will give update when 33 percent is in of the Precicnts
1o:52. Ok this worrys me. The suburb vote is coming from Salt lake- Cannon barely has a 100 vote lead in that County. That is worriesome but its still earlyCurrentCannon- 58.27% 6,386 Jacob-41.73% 4,5741045 - It should be noted that half the precients come from Salt lake County. Only 3 have reported in there out of over 300. Its looking good now but its hard to see what happening till we see that more urban area come in10:41- WOw big numbers in 80 out of 623 repoerting. It appears that Cannon is doing well in rural areas from the areas I see coming inCannon-59.8% 4,946 Jacob- 40.2% 3,32510:35- Ok we are getting them in faster now- (20/623) 58.23% 2,207 Cannon 41.77% 1,583-Jacobs10:25- (07/623) 55.93% 1,765-Cannon 44.07% 1,391-Jacobs 10:15 Good heavens are they counting these numbers with a Abacuc10:05 With 7 precients in 56.91% 1,585 -Cannon 43.09%1,200-Jacobs9:59 CENTRAL0.64%4 out of 623 in 55.9% 1,350 Cannon44.1% 1,065 Jacobs9:45- New Numbers starting to come in be patient dial up sucks9:27 Returns are coming in real slow. They come in much faster in Louisiana lol. I chalk that up to the new system. I think these are absentee we are seeing For your info this district is 7 counties, with Salt Lake and Utah having the most precincts. I find this to be a very low absente if that is what we are looking at9:10Central-
Totals
55.5%1,266 Cannon
44.5%1,015 Jacob
These numbers are reported to be from Utah County where Jacobs was running the strongest. This might be a early good sign
9:02Central- I
am putting the Free Republic live thread up now. Those despite that anti immigrant retoric are good sources for info
9:00Central
- Polls are closed It has been decided now to wait the outcome
8:00Central-
One Hour till polls close. Time to pray for flat tires for the Jacob yet to get to the poll voters and assistance getting Cannon folks there/
7:48Central -As
you might know today Utah is trying all the new Electronic voting machines. This blogger at the Salt Lake City paper
has a humerous look
at how maybe all the kinks are out of the election process today
5:15Central
-I am gathering from some forums that turnout is low at this point. Thats bad for Cannon. However its only 4:15 there.